Top 11 Actionable SEO Strategies For 2023
Expert Winning SEO Strategies and Tips For 2021
There is no secret to ranking well on the search engine; all it takes is doing things correctly to enhance websites for both users and search engines. Here, we'll go through finest SEO techniques and how to put them into practice to boost your search traffic.
As all we know, traditional marketing things are becoming outdated today. Digital marketing methods are ruling the market growth. There are many pieces of SEO advice available on the web, but most of them don't deliver the required result. SEO is now becoming a top follower and used trend in the digital marketing workflow.
Using some SEO Strategy, it can be easy for any business to outrank their competitors within some period by improving some things on the website.
Search engine optimization is a bunch of techniques to follow for improving the website's structure and performance. But it won't be easy because regularly updating Google's algorithm impacts more on SEO workflow, and it's necessary to work accordingly. To attain a good SEO result, one must follow the best SEO best practices or SEO Techniques to rank websites higher on search engines.
What is an SEO strategy?
A plan of techniques and tactics used to get significant organic traffic is the Search engine optimization strategy.
Let's see some actionable SEO Techniques that will work in 2021 to achieve massive success in search engine ranking.
What is the best SEO strategy for 2021?
Check out following SEO strategies in 2021. Implement all SEO tips and techniques in your next SEO workflow to improve rankings as well as traffic on website.
● Improving CTR
● Core Web Vitals
● Improving Internal Linking Structure 
● Creating catchy headlines that get clicks
● Implementing long-tail keyword strategy
● Use of image SEO
● Developing High-Quality Backlinks Techniques
● Content Marketing
● Improve the User Experience
● Republishing old Blog posts
● Hire an SEO expert
1.  Improving Click-Through Rate (CTR):
Click-through rate shows how much your heading is clickable and likable by the user. Having higher CTR is considered as the Site gets more clicks. The overall CTR (higher is better) indicates how well your website performs in search engines.
CTR will increase with the number of clicks we get.
Why it is important– CTR metrics help us to improve ranking. The Higher clicks = Increase in Ranking.
Just remember one thing, More Clicks = More CTR = Increase in Ranking.
Pro tip – How to Improve CTR?
➔ Long-tail keywords should be researched and used in your titles and headings. Short keywords get fewer clicks than long-tail keywords.
➔ Make your meta title, keyword-optimized and easy for users. You can do so by leveraging. There are a few headline analyzer tools available that will display your headline score.
➔Use Listicle in your article. That makes your content more readable and understandable.
➔ Use Descriptive Keywords In URL
➔ Use structured data to improve the context of the content.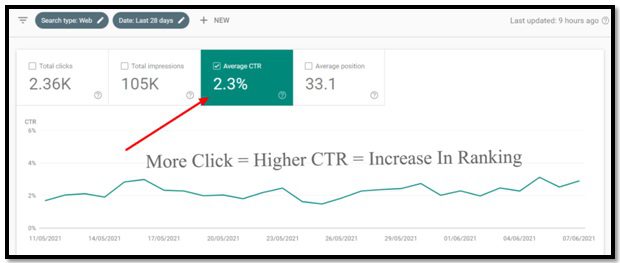 2.  Enhance Website Structure with Core Web Vitals:
Google recently stated and is now rolling out an algorithm update for June and July. It mainly focuses on the website speed and page experience factors.
"Core web vital is a new metric introduced by Google to better understand and evaluate the user experience on a website."
There are top 3 metrics in Core Web Vitals that need to be improved for a better user experience to get good SEO success for a website.
Why is it important?
Core Web Vitals are upcoming ranking factors for enhancing websites for better speed optimization. Google will reward fast-loading sites. So improving results for websites is the cherry on the cake for now, and all SEO folks are trying to resolve all web vitals.
Pro Tip – How to optimize the site for Core Web Vitals
The following three key factors influence the page experience update:
Loading Performance
This refers to the speed with which information shows on the screen.
Largest Contentful Paint (LCP) – It measures the total time taken for the largest element on the website to appear on the screen.
When LCP shows <=2.5 seconds, you get a good LCP score.
Responsiveness 
How quickly does it respond to a user's search query?
First Input Delays (FID)- It is a measure of Interactivity. Input delay measures the responsiveness of a web page. FID is a metric for evaluating how quickly users can interact with content.
Sites should aim for a First Input Delay of 100 milliseconds or less to give a decent user experience.
Visual stability
This metric assesses the stability of the contents as it loads.
Cumulative layout shift (CLS) – This metric counts all layout shifts that aren't the result of user interaction.
CLS is caused by following things and improving them will help in achieving a high CLS score.
 A Good CLS Score Is Considered 0.1 Sec.
The most common causes of a poor CLS are:
Images on the website without dimensions.
Ads and iframes without dimensions.
Dynamically injected content.
Web Fonts causing FOIT/FOUT issues.
Updating DOM element before the site starts loading properly.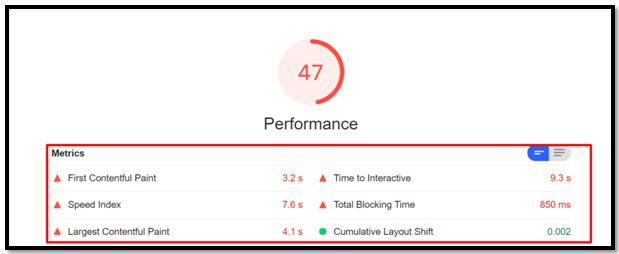 3.  Improving Internal Linking Structure:
Internal linking is one of the best strategies you can use for your website. Internal linking allows you to connect two relative web pages with anchor text within your website (Text with hyperlink). This way, you can make users spend more time on site by providing an additional source of information. That is the easiest and result-driven strategy to implement.
Importance of Internal Linking:
Internal Link helps to improve user interaction on-page through anchor text.
It helps to pass link juice to the website.
It increases page views and is also helpful to improve page ranks.
The perfect internal link structure allows you to reduce the bounce rate on websites. (Google considers the lower bounce rate is a good signal)
Helpful for crawling and indexing the top pages on site.
Pro-tips and best practices
Find out the best-performing pages on sites. Make a list and also find out the anchor text.
Analyze low-ranking pages on-site and use top-ranking pages to add relevant anchor text linking to low-ranking pages.
Please don't overdo it; apply when it makes sense.
Make sure all website pages are internally linked to the homepage.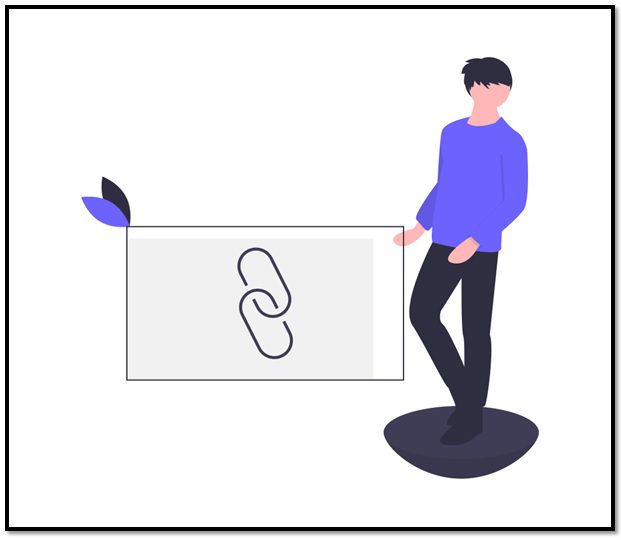 4.  Writing Catchy SEO Friendly Headlines To Grab Attention:
Headlines describe everything about the content you provide. Hence, writing catchy, attention-grabbing headlines will help to get more clicks. Good headlines help to search for understanding and matching the user's search query with content. Practicing and writing great headlines is one of the best internet marketing strategies you have.
"To improve your headline quality, check the following best practices to work on"
Pro Tips:
Use targeted keywords in the headline with the intent of describing the story of the content.
Add the power words that drive and describe emotions, urgency, and benefits for the reader.
Make it short but descriptive in fewer words. Aim for a one-liner.
Know your audience and write for them, not for sole SEO purposes.
Use call-to-action words that make the user feel special.
5.  Implement Long Tail Keyword Strategy In Workflow:
The keyword is the backbone and a starting point in any search marketing strategy. The right keywords can pull tons of traffic to a website. As a result, including long-tail keywords as a new approach in your SEO campaign will help you acquire more traffic.
When you broaden your keyword, the search becomes more specific, and this will help you get quality traffic and a higher ranking on search engine results.
Pro Tip: Check the following for finding the right long tail keyword for your next project.
Make it clear, understand and analyze your Audience.
Find and create the intent of the search.
To find Long tail keywords, use tools like Google Suggest, Google-related searches, find keywords on Wikipedia.
Create a good anchor text to use.
Use keywords in Meta tags, Heading and as an anchor text.
6.  Let Images Work For You (Image SEO):
Images are returned for 27.9% of search queries On Google.
That is because our brain can interpret images faster than text, and hence for better communication, images are a vital part of product and service marketing.
If your website has images, you can get benefits for ranking using an Image SEO strategy. It's nothing more than optimizing photos for SEO purposes. Check out the tips below to optimize photos effectively.
Image Optimization Tips:
Create your image, don't use stock images.
Use the right image format.
Use correct file names.
SEO-friendly alt text.
Optimize images by reducing the size and keeping quality higher.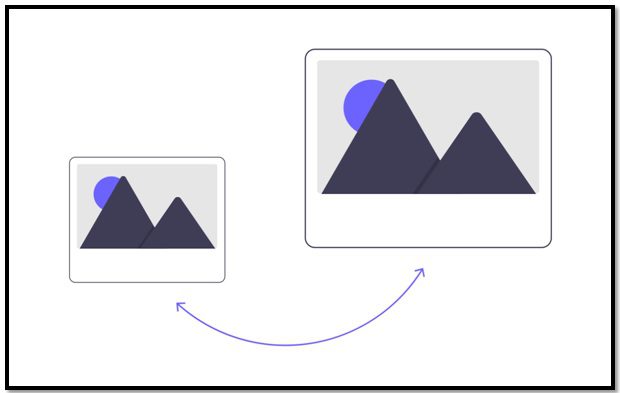 7.  Create High-Quality Backlinks: 
Backlinks drive more traffic towards websites. With Backlink Strategy, you can double your traffic by getting some quality referral traffic from good sources within your niche.
On-page factors aren't the sole thing that determines SEO success. To boost search traffic requires some additional Off-page SEO.
A total number of backlinks doesn't support your ranking goals. Thus, Backlink from some authoritative, relative, topic-specific, and popular sites can. Find out some best ways to get and create quality backlinks for websites.
How to Get Quality Backlinks?
You can get Backlinks from some editorial backlinks, like from Wikipedia
Broken link Technique
Guest posting on other sites
Backlinks from business profile sites.
Local Citations
Getting links from case studies on websites
Backlinks derived from press releases on authoritative sites.
The important thing to remember is that creating a strong Backlink strategy is still important for SEO success.
More Backlinks = Higher Ranking On Search Results.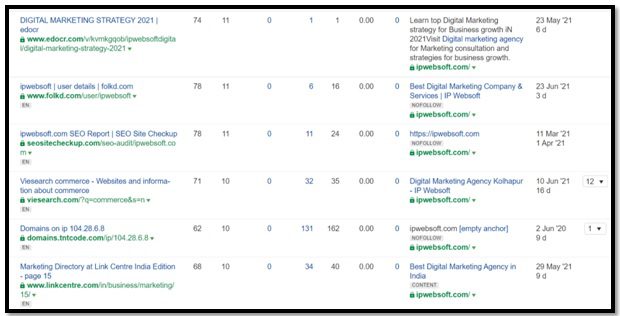 8.  Make a Perfect Content Marketing Strategy:
"Content is King as always and forever. "
Adding the right content marketing strategy will boost your SEO ranking with quality SEO traffic. The content can deliver the proper message to the user, and most users make their buying decisions based on the information they receive. So, in 2021, create and implement the best content marketing strategy to get better results.
What is quality content?
"The perfect content is all about understanding and writing as per the user's needs. "
In other words, "Content is a medicine that relieves the pain for Users search intent"
Strategy for Content Marketing
List out goals and objectives for the topic
Spend time to know your audience and what they need
Conduct keyword and topic research with search intent
Use long-tail keywords in the content
Write good heading and meta tags
Audit content and find out pain points
Write engaging content and promote it on Social media
Distribute content on relevant topic-related sites
Make use of Backlink strategy to spread content on top sites
9.  Enhance User Experience through Mobile Optimization:
According to research, people are more likely to use Mobile devices than desktop devices. Hence it also impacts the search market. According to Google, 30 % of overall searches are made from mobile devices. So optimizing a site for mobile is the best strategy you can implement.
How to Optimize Site for Mobile:
Make mobile sites simple and easily accessible for users
Choose the right viewport
Focus on improving page experience
Improve Mobile site speed. (To Measure page speed use tools like Google page speed Insights and GTMetrix)
Don't block JavaScript, HTML and CSS files
Avoid redirects and popups on site
Make clickable elements easily accessible

10.  Updating Old Blog Posts and Pages
Blog posts are the best ways to drive quality traffic towards websites by conveying and providing the best information for users' needs. But most often, not every blog post gets rank on search engines. But here is one blog strategy that can work. Republishing old blog posts by improving content quality and adding some keywords.
To make this strategy work, you must first determine which pages need to be improved. The improvement should include Text content, images, Site speed, and Mobile responsiveness.
Selection of pages for Improvement
Pages with high-quality backlinks – If you have quality backlinks but don't rank well in search engine results.
Low-performing pages – The performance of a website depends on every page on the website. So finding and improving low-quality pages by improving content like images and text will help to get traffic.
Pages with Higher Keyword Impressions and fewer Clicks – You can find those pages on the Google Search Console. Good CTR and ranking can be achieved by improving those pages.
Pages with below-average performance: Pages that have undergone a sudden drop in ranking must be improved in order to regain their position.
With this strategy, you can save more time and effort to utilize for right pages on websites.
11.  Hiring an SEO Expert:
If you are a non SEO person, then you have a good choice to hire an SEO expert to do work for you. All the tactics discussed above include SEO workflow, so you don't have to worry about anything being missed. In addition, SEO experts will help you make a proper plan for executing all things correctly to deliver the best result.
 Hiring an SEO expert will help in the following ways.
Technical SEO things
Resolving all site-related issues
Optimizing site for both mobile and desktop devices
Content and keyword optimization
Competitor analysis for finding the best ways for improvement.
Executing actionable backlink strategy