How to Optimize Content for Discover Feed
Personalized content is the most engaging way to attract users. And speaking of personalized, who knows you better than Google. I bet Google knows your preferences and interest better than your friends, family, or partner.
Do you think that Google will miss the opportunity of showing interesting content that will attract users? Of course not!
Let's see what exactly all this means and how you can leverage this for your business.
What is Google Discover?
Google Discover is the personalized content feed that serves interesting content. It's available on all mobile browsers when you are logged in to your Google account. It's an amazing mobile search experience where you don't even have to search. You can simply swipe up to check the content you might like.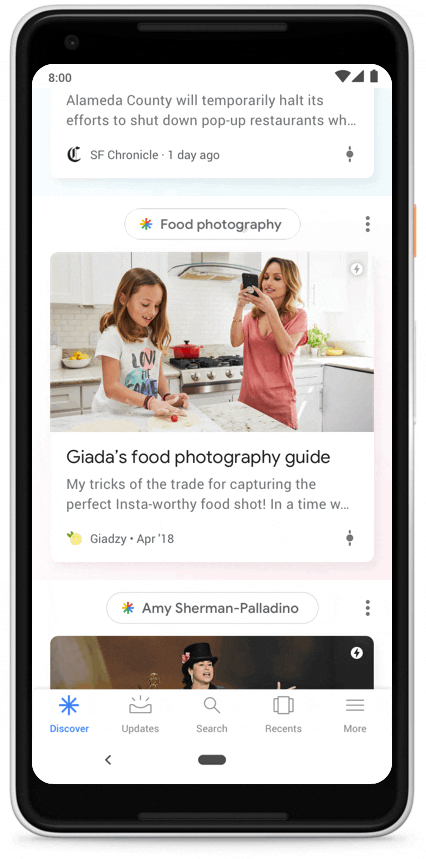 It's a smart feature that offers the content you like without searching for it. Not only it offers relevant content but also provides more visual content than simple text. It's a totally different way of accessing relevant information that you didn't even know you needed it.
How Google Discover Works?
Unlike Google Search that works on the basis of a search query, Google Discover focus on user's interest. Google shows the most timely content according to your preference.
The mechanism of showing relevant content depends on the following factors:
Search History
Browser History
Location
Use of Apps
Google learns what you like from your search history and serves personalized content. Application activity, location history, and interaction are some factors that decide Discover feed content.
You can customize the Discover feed by subscribing to a certain topic of interest; you have control over what you see.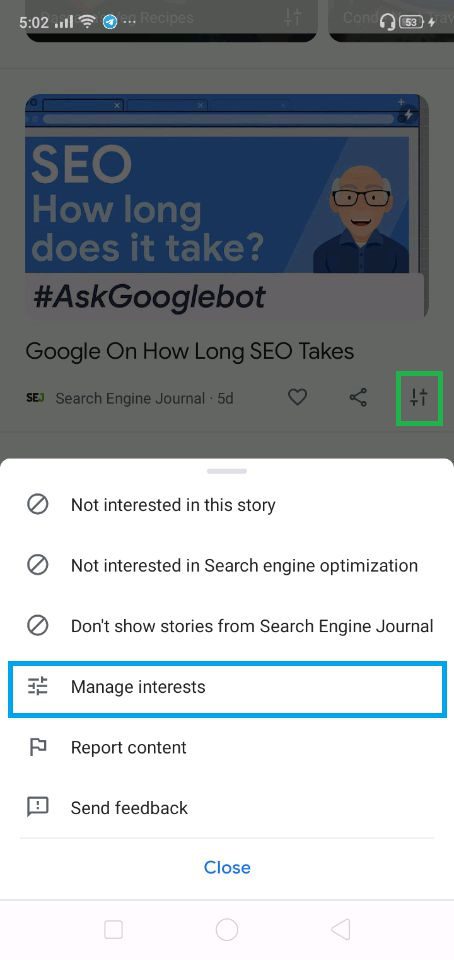 You just need to click on the control tab to manage interests, you can select the topic you are interested in. This feedback is useful for customizing Discover Feed
Now that you are familiar with how "Google Discover" works, let's move forward. Let's understand how you can utilize it to drive traffic to your website.
How can you optimize for Google Discover?
Here is a list of actionable tips that will help you to optimize your content for Google Discover:
1. Make Your Site Responsive
It's quite obvious that you need to make your site mobile responsive as Google Discover is exclusively designed for smartphones. Make your content easily accessible on mobile devices.
Having a mobile responsive site is a prerequisite for standing a chance to get visible in the Discover feed. Make sure you offer a wonderful mobile experience for users.
Pro tip:
Setup Google Accelerated Mobile Pages (AMP)
As speed is the crucial factor in the performance of web pages, you must give attention to the loading speed of your website on a mobile device.
It's easy to set up Google AMP on your WordPress site, simply use the AMP plugin. Please note that AMP will give a boost in mobile search but it has few limitations such as you cannot add certain features to the mobile AMP website also it doesn't support many analytics platforms. So it's better to take advice from an SEO expert before implementing this strategy.
2. Offer Evergreen & Real-Time Content
Google Discover offers trending content to keep the user up-to-date. You should do the same. Offer the most trending & real-time information about your industry and products. Discover will also show the evergreen content that is engaging, problem-solving & entertaining.
Maintain a healthy ratio of evergreen content and posts with the latest happenings to stand a chance to get visible in Discover feed.
3. Use Attractive Visuals
Google Discover offers a diverse range of content including news, photos, videos, new blog posts. The focus is on more visual content than just text content. So it's vital to create quality visuals and optimize them properly.
Your content must include:
Quality Images
Engaging Videos
Creative Infographics
Pro Tip:
"Publishers achieved a 5% increase in click-through-rate (CTR) through high-quality large images"
Use large images as they perform better in Discovery cards. Make sure that the images are 1200 px wide and are optimized for fast loading speed.
4. Increase Followers
Google Discover has the amazing facility of control & customization of what users see on the feed. As we have seen earlier, users can decide on what sources of information should be added to the collection. It's a great feature that lets you select the topic of interest.
But your target audience may not have any idea about this. Motivate your community to follow your updates.  Inform them how to add you to Google Discover.
Open Google App, search for your brand name, here we will take the example of "IP Websoft" You will see the "Follow" button on the upper right corner of the screen. If you don't see this for your brand, please scroll down and search. Once users will click on the follow button, they will be able to see the updates in their Discovery collection.
Please note that users should be logged in to the Google account to see this option. It will not be available otherwise.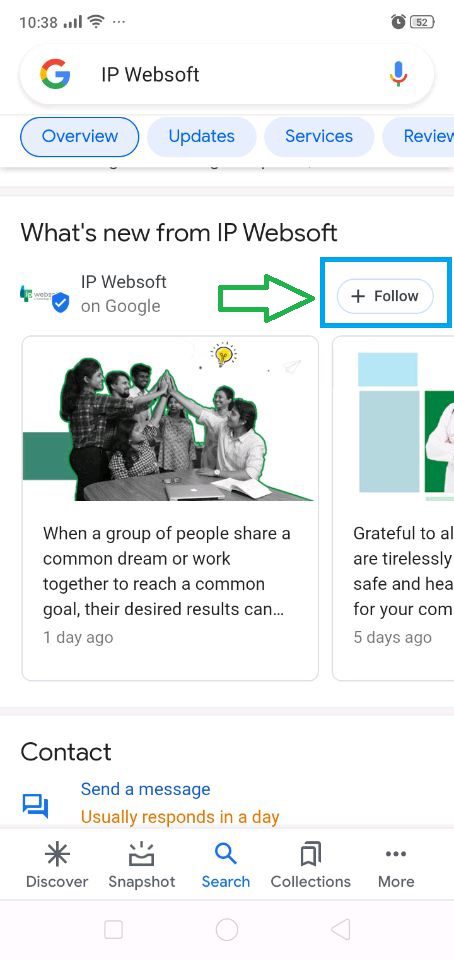 Digital Growth Booster of the Week
Create Web Stories
Google reports 100,000 new Web Stories are added to the search index on a daily basis.
Discover feed has the web stories carousel which showcases some of the best visual content from the web. Web stories can be viewed and enjoyed easily with the tap on a story, simply tap to move forward to the next page. Redirecting user from stories to your web page is another great opportunity you can utilize to increase your web traffic.
In addition to Discover, your web stories can be featured in relevant search engine result pages on mobile.
How to create a web story?
In order to create an attractive web story, first draft the story and create the visuals required to tell the story. Once you are ready with all your visual assets like images, text, or video then you can start creating it.
Creating a story for your WordPress website with the help of Plugin is quite easy; you don't need to have the technical expertise to do this.
Follow the simple steps to create a web story:
Login to your WordPress dashboard
Click on plugins & search for "Web Stories"
Install the plugin & activate it
Open the web stories dashboard and click on "create new story"
Customize your story with the help of available features & your visual assets
Optimize meta tags with keyword-rich content
Publish it once you finish working on it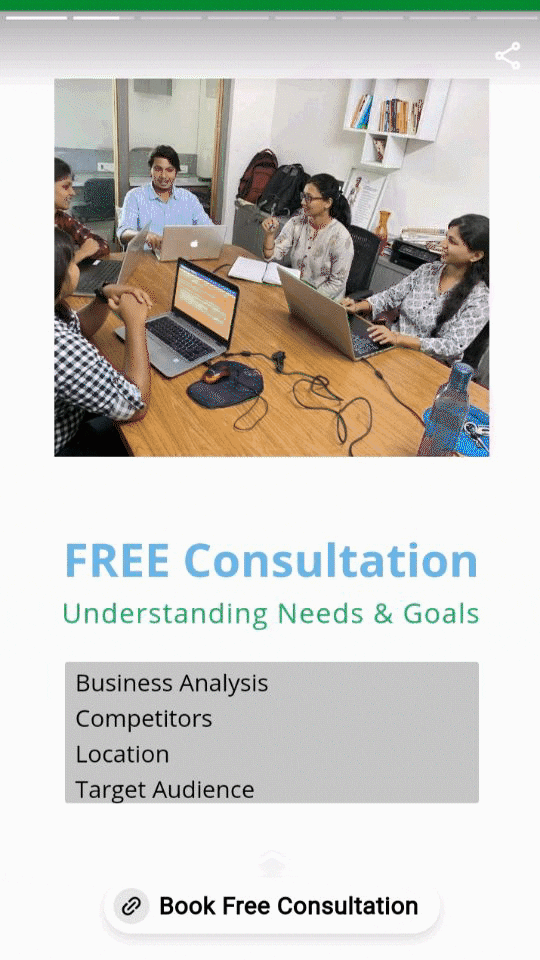 You are all set to show your story and enjoy web traffic.
To wrap up, keep serving relevant & attractive content to your users in order to reserve the space in Discover as well as in SERP. If you have any other strategies or queries then please let us know through your comments below.