Tips to Keep in Mind When Hiring a Full-Time Developer
Many crucial activities that you may not be able to do on your own can be assisted by a web developer. You will almost certainly require the help of a web developer if you run an online business. Creating a website is simple but keeping it up and running while delivering the most up-to-date features takes ongoing effort. Want to hire a full time developer? Here is all you need to follow:
Define your specifications to hire a full-time developer
The first step in hiring a web developer for your company is to outline the responsibilities that the developer will be responsible for. Adding unique features to your site necessitates a whole different procedure and staff than upgrading your server.
You may make the process of choosing the proper developer easier by laying out your criteria ahead of time. You'll have a mental image of the ultimate outcome and the actions required to get there. Be very clear if you need a STACK expert or are looking for a mean developer.
This will enable you to swiftly narrow down potential applicants based on the abilities and expertise that are most relevant to your company. Developers come from a variety of backgrounds, but they usually specialize in one of three areas: frontend, backend, or full-stack.
Make sure your website is ready.
You'll need to prepare your website for the project once you've decided on your web development requirements. Here are some things you can do to make sure everything is ready for the developer to start working:
Your web developers will require access to your website's backend without giving them direct access to your admin account. They'll be able to access the system if you create a temporary user account for them while you keep control. You can assign user-based permissions based on the project's requirements. This will limit the developer's ability to see and perform things.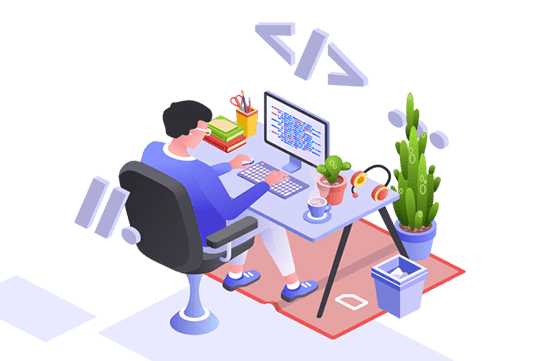 Make a list of the skills that are a must-have when you want to hire a full-time developer
This may seem like the most obvious recommendation for hiring the finest developers for your company but writing down the specific abilities required to finish your project will benefit you more than you know. Make two lists: one of "must-haves," which are the bare minimums for each applicant, and another of "like-haves." Although no one is perfect, the must-haves can be highlighted during the initial conversation to eliminate individuals who aren't a good fit. Remember that the pickier you are, the longer the quest will take, but your list might help you determine whether the wait is worthwhile.
Make that the developer is compatible with your company's culture.
Different offices have different moods, and if your developer doesn't fit in, it can be a fiasco that wastes your money, harms your product, and makes everyone unhappy.
It's critical to find and hire the top engineers who match your company's culture. If you operate on a remote team, you'll need someone who can work alone. If your firm expects a lot of teamwork, you can't have a developer who doesn't get along with others – they won't work out if they don't match your company's culture.
Find out what your developer's standards are.
One thing that all of the best developers for hire have in common is that they have high standards. You don't want a candidate who is happy releasing anything before it's ready, and you certainly don't want a candidate who will leave the next developer with a total mess. Request a demo of their portfolio and examine their references to ensure your possible developer has excellent standards. Make sure the developers are well versed in technologies like PHP, .NET core, MEAN stack, WordPress.
How Much Does a Good Developer Cost?
You could believe you're getting a good bargain on a brilliant developer, only to lose out because your offer isn't the best. Learn how much it costs to hire a developer. Freelance developers often charge a range of hourly fees and may overpay if they believe you are inexperienced. Calculate the average cost of the talents you desire and go for it.
Why hire ADe Technologies
There's no embarrassment in seeking assistance if you're unsure where to begin in your search for the finest developer for your project. The professional experts connect top developer talent with prominent organizations in their industry. Post your project to connect with the developers who are interested in working on it. We have been in the industry for 17 years and have been helping businesses hire the best developers. Our team at ADe Technologies can help you with 7 days of a free trial. Once you feel our experts are the best ones for you, feel free to continue with them. We will also help you out with a free project manager to guide you in the best direction.